Idea Cellular Announces New 3G WiFi Dongle With 6GB of 3G Data for Rs 2,999
Idea Cellular is an Indian mobile network operator based in Mumbai, offering 2G and 3G services. The company has a revenue market share of nearly 15% and a subscriber base of over 121 million, being India's third largest mobile operator. Now it has come up with a new device and data offer for its customers.
The company has launched a new 3G Wi-Fi dongle, called the 'Smartwifi Hub' along with 6GB of 3G data for a month. All this for a price of Rs 2,999. Idea Cellular says the dongle will be available in all key 3G markets of India, which include Chhattisgarh, Haryana, Himachal Pradesh, Kerala, Gujarat, Goa, Madhya Pradesh, Maharashtra, Uttar Pradesh (East), Uttar Pradesh (West), Punjab, Andhra Pradesh, Telangana and Jammu & Kashmir.
The company also says that the device allows high speed 3G data connectivity across up to 10 devices with a download speeds of 21.6 Mbps and an upload speed of 11 Mbps.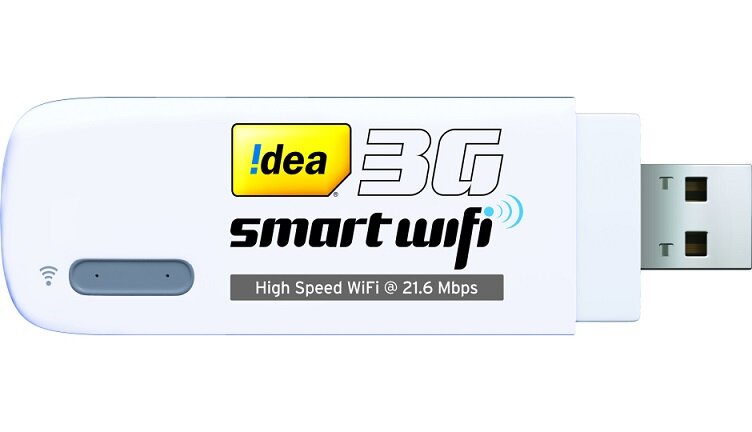 Of course, as expected, any Idea Cellular customer can use it to connect simultaneously laptops, phones, tablets and even music players. The devices comes with a built-in with 1500mAh battery and it doesn't need power supply from any device. But at the moment we don't know exactly for how long will its battery last.
Idea says it will be compatible with all major operating systems, such as Windows XP, Windows Vista, Windows 7, Windows 8, 8.1, Linux or Mac OS X. The dongle will work on 900MHz and 2100MHz frequency bands. Targeted at Small Office and Home Office (SOHO) users and requiring zero installation, this could lure in many consumers.
Idea Cellular has recently launched two dual-SIM budget 3G smartphones – Idea Magna and Idea Magna L, both of them running Android 4.4 KitKat out-of-the-box.
READ ALSO: Indian Court Allows Xiaomi to Sell its Smartphones for Now