Dropbox's Carousel App for iPhone, iPad Now Lets You Free up Space, Brings Photo Albums
Dropbox is no longer just a provider of cloud storage, as the company has released new products for its customers – an application meant to take better care of how users handle their pictures and one meant to improve the email experience.
Now the company is releasing an important update to the official Carousel app for iOS users. The update is rather important as it brings a bunch of new features and options that have been highly requested by iPhone and iPad users.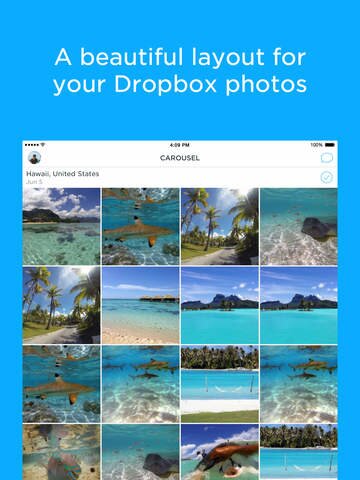 Dropbox said that before they close out 2014, they wanted to 'hook us up with a bunch of fun features'. There are four big changes that are coming to the official Carousel app from Dropbox.
The app now comes with a new option that allows iPhone and iPad users to free up space on their devices. Here's what Dropbox says:
Chances are you have photos and videos safe in Dropbox that are still taking up space on your phone. Carousel can now remove them from your camera roll — since they're in Carousel, you can still see them on your phone, tablet, and the web.
With the new Flashback option, iOS users will be able to relive moments from the past, here's how the official description sounds like:
Remember those cool kicks from high school? Or the time your daughter took her first steps? Looking for a sweet pic for #tbt? Our new feature Flashback helps you relive your memories.
Dropbox says that the new Photo Albums option has been one of the most requested features. And now that it has finally arrived in Carousel for iPhone and iPad, you can go ahead and make use of it to better organize your pictures.
But this is not all, there's now even a new time wheel option, as well, here's how it will work like:
The time wheel is a great way to scroll back in time to browse your photos and videos and now it has a new home in Carousel. Just swipe left on your timeline to reveal the time wheel and relive your favorite memories.
I have been using Dropbox's Carousel app for a while now and have been quite pleased with it. Leave your comment below and let us know what is your opinion.
READ ALSO: Huawei's New Budget Honor T1 Tablet Launches in India for Rs. 9,999