BMW Brings 2015 M5 Facelift to Indian Market, Challenges the Mercedes E63 AMG
German car maker BMW is without any doubt, one of the most respected companies in its field in the world. With a really powerful brand, the company has operations all over the world, India being one of the target countries, as well.
Now BMW has launched an updated version of its BMW M5 sedan in India, which is priced at about Rs 1.35 crore. The facelift BMW M5 is available at dealerships across the country in a petrol variant, for now. BMW will see competition against Audi, Mercedes-Benz and Jaguar Land Rover in the growing Indian luxury car market.
Mr. Philipp von Sahr, President, BMW Group India said the following:
"Power delivery, torque, driving dynamics: the new BMW M5 embodies pure athleticism. Conventional rules do not apply to the new BMW M5. An independent production of BMW M GmbH, it remains faithful to the M philosophy, perfectly combining high performance with optimum everyday practicality. An uncompromising presence, a natural leader, it conquers every challenge. Whether on the open road or in the city, it is the perfect interplay of heartbeat, horsepower and exhilarating harmony."
The updated BMW M5 is available in Alpine White as non-metallic paintwork and in seven metallic paintworks: Black Sapphire, Imperial Blue Brilliant Effect, Monte Carlo Blue, Sakhir Orange, Silverstone, Singapore Grey and Space Grey. The new sedan from BMW is imported as a CBU (completely built-up) unit, which means it is entirely assembled in Germany.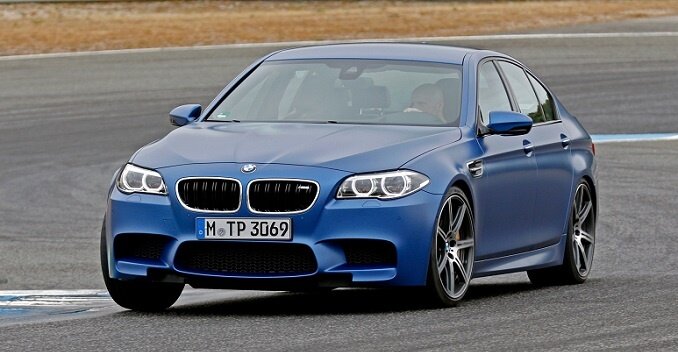 We find a M TwinPower Turbo eight-cylinder petrol engine capable of a maximum power output of 560bhp and 680Nm of peak torque. This is the most powerful of all the BMW production engines that touches 100Km/h mark in just 4.3 seconds.
The car comes with a seven speed dual clutch unit with paddle shifters behind the steering wheel. Also, BMW's Active M Differential at the rear axle is claimed to help deliver the "outstanding dynamic driving performance". A wide range of safety and assist features such as Electronic Stability Control, Anti-lock braking system (ABS) with braking assist, proprietary Active Protection with Attentiveness Assistant and Active Headrests are present, as well.
The BMW M5 facelift gets an updated headlight cluster, which is brighter and sharper. On the inside,the new BMW M5 remains pretty much the same, with minor changes here and there.
READ ALSO: BMW M2 SPOTTED in Germany, Release Date Approaching?