Karbonn Sparkle V is the first Android One Device in Europe, But isn't Exactly Cheap
If you are not aware, Android One is fresh a standard created by Google for Android systems, targeted at people buying their first smartphone and customers in the developing world. Android One smartphones will run software close to stock Android, and another selling point is said to be the affordable price.
And now it seems that the program is ready to make its way into Europe. Indian-based Karbonn Mobiles has introduced the Karbonn Sparkle V smartphone to UK buyers. The Android One smartphone was launched at a promotional price of £99, but it is currently available for £129.99.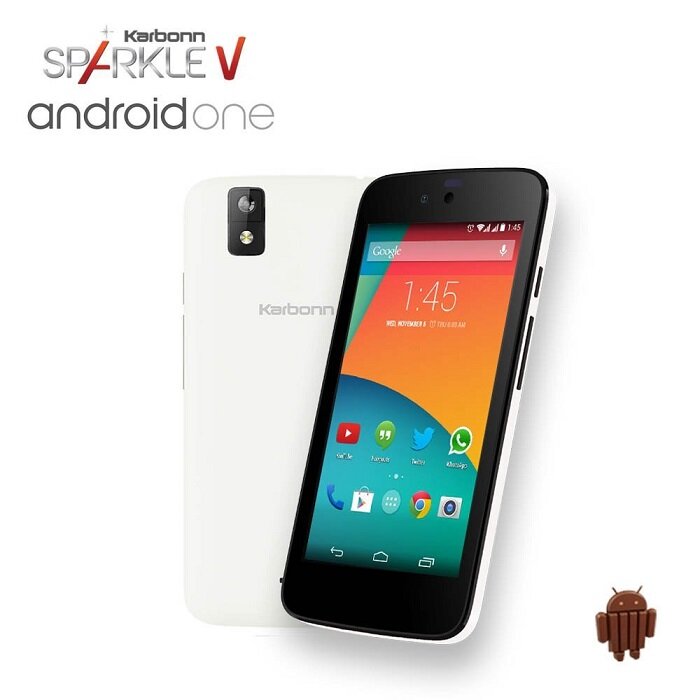 The phone is dispatched from and sold by Amazon directly, which also offers free delivery in the UK. Thus, after the Android One program has launched only in India, it has now extended into UK. So even if the program is mainly targeted at developing markets, we can see that it will try its luck in developed countries, as well.
The smartphone runs Android 4.4 Kitkat and comes with a 1.3GHz quad core processor and 1 GB of RAM. It has a 4.5″ capacitive touchscreen and a 5.0MP camera on the back and a 2MP one in the front. There's just 4GB of internal storage, but it can be expanded up to 32GB. Karbonn also mentions that there's a 'guaranteed upgrade to Android Lollipop 5.0′, but doesn't specify when.
Jay Pau, chief executive of Santok Group, which owns the Karbonn brand, said the following:
For far too long the UK mobile device market has been dominated by a small group of huge brands and this has meant that the price for smartphones has been pushed extortionately high. There are currently low-end cheap alternatives, which offer what people pay for them. With Karbonn we are introducing a high quality brand, with leading technological innovation and cutting edge design, but without the 5* price tag.
Besides the Sparkle V, Karbonn will also launch slightly modified versions, such as Karbonn A19, Karbonn A5 and S Karbonn S6. Some of them have bigger batteries, more internal storage and slightly better displays.
Even at this price, the Sparkle V will face agressive competition from other Android smartphones like the HTC Desire 510, which costs just £80 in the UKand has better specs and the Motorola Moto G, which retails at £115.
READ ALSO: HTC Outs New Duo of Mid-Range Smartphones: Desire 620 and Desire 620G