10 DAYS Until the Launch of Apple's Next-Gen iPad Air 2 & iPad Mini 3
Without any doubt, Apple's products are the most rumored and talked about in the tech space. No matter how many scandals or negative publicity there might be, there will always be a huge buzz surrounding its upcoming products.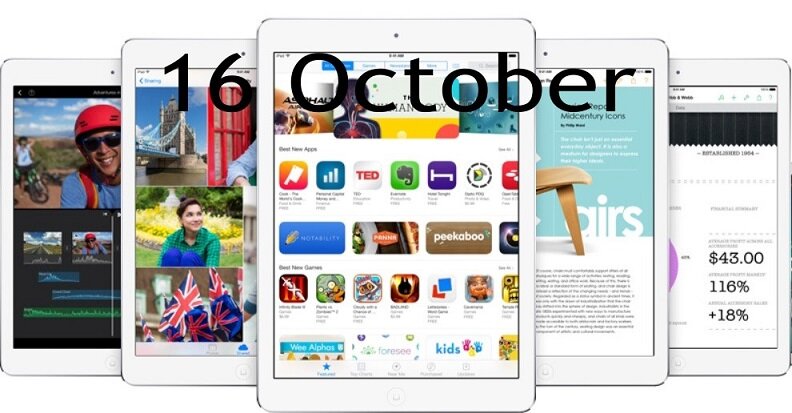 According to many previous rumors, leaks and hearsay, Apple's upcoming next-generation iPad Air 2 and iPad Mini 3 tablets were scheduled for a release this month. And now a highly respected publication confirms the allegations.
Recode publication says that Apple will announce the upcoming new iPad tablets at a special event on Thursday, October 16, which is slightly more than a week away.
READ ALSO: Surface Pro 3 WiFi Problems Still Present After Firmware Update
The launch is said to take place at the company's Town Hall Auditorium in Cupertino, and most likely won't be as flamboyant as the iPhone 6 launch event.
The date of 16 October is just a few days earlier than last year when Apple debuted the iPad Air, the iPad Mini with Retina display, and launched its revamped Mac Pro.
Besides the updated version of the iPad Air and iPad Mini, a final version of OS X Yosemite and iMacs with Retina displays are some other products that could get unveiled.
Prior to 2012, Apple unveiled new iPads in the spring, but the company changed this to make the best of the upcoming holiday season when many people are eying the iPad as a potential Christmas gift.
As for the specs and features of the upcoming new iPads, we should expect the usual incremental updates from Apple, and that is – improved cameras and processors, and perhaps a better build.
Some recent rumors were suggesting that Apple could add a gold color option in order to boost sales of the declining iPad; and fingerprint scanner is also another novel that could make its way into the the iconic products.
READ ALSO: Tesco Hudl 2 Tablet is Official, But Will it be as Successful as the Original One?