PES 2015 Cover Revealed, Release Date Confirmed by Konami
By
Shujaa Imran
/ August 17, 2014 /
Microsoft Xbox, PC Games, Sony PlayStation
2847
PES 2015 is scheduled to be release later this year, set to challenge FIFA 15 for the title of the world's best football sim. Interestingly, the demo will become available September 17 – one week before FIFA 15 is released. The cover for the game was also recently revealed, with Mario Gotze to be the featured superstar.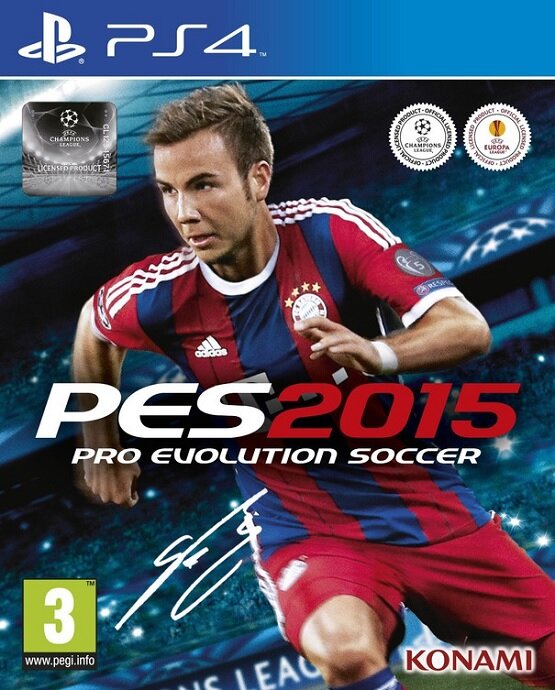 Developer Konami recently announced the release date for its latest iteration of the famous football sim – Pro Evolution Soccer 2015. The game is set to be released for the PS4, PS3, Xbox One, Xbox 360 and PC on November 13th this year.
Konami chose to skip the next-gen consoles with PES 2014, but hopefully, PES 2015 will take full advantage of the next-gen processing power and improved graphics experience to deliver a truly unique football experience.
A free demo version will also be available for all the aforementioned platforms from September 17th – exactly one week before FIFA 15 releases worldwide.
Konami also recently announced that Pro Evolution Soccer 2015 will feature German midfielder Mario Götze on the game's cover when it released later this year.
If you were living under a rock and didn't watch this year's FIFA 2014 World Cup (seriously though, who didn't?) you'l recall that Götze scored the winning and only goal in the World Cup final.
On the other hand, FIFA 2015 will feature Lionel Messi on its cover, and US player Clint Dempsey for US versions of the game.
PES features many new changes this year, with improved animations and PES ID, which makes world star players move and act similar to what they do in real life.
Konami says it has given over 1000 players specific animations and playing styles, from Ronaldo's unique running style and free kick pose to Messi's skillful dodging.
PES ID will also apply to teams as well, with many teams adopting their real-life game plans in PES 2015.
The studios collaboratively working on the title have also enhanced the game's graphics, with natural lighting said to be one new feature of many others. Crowds will also now play a bigger role during the match, with more reactions to big moments.
As mentioned above, PES 2015 will release on November 13th for the PS4, PS3, Xbox One, Xbox 360 and PC.